Press Release
On this day the 1st of July 2008, the representatives of the West Papua Refugees camped at Apex Park – Boroko, Port Moresby, Papua New Guinea – wish to raise the following concerns regarding the continued displacement of their families in Port Moresby.
1. Our status as refugees in PNG:
(i) While the United Nations High Commission for Refugees (UNHCR), the Papua New Guinean Government, and others concerned with the plight of all West Papua Refugees in PNG, continue to deny us refugee status and therefore those rights accorded to refuges under international conventions and treaties, we reassert our claim to refugee status and all it's implications and meanings. In other words, in the absence of a piece of paper to confirm or attest to our refugee status, our mere existence and treatment since arriving on PNG soil is blinding proof of our right to claim refugee status.
(ii) On this day 37 years ago a West Papua Government in exile was established to lead an independent State of West Papua. This remains the single most important event in West Papuan history that brought on the systematic onslaught by Indonesia to annihilate the aspirations of West Papuan peoples right to Self Determination. We the West Papua Refugees at Apex Park in Port Moresby are a direct consequence of this event 37 years ago and we will never forget or let our children forget, the relentless efforts of Indonesia to render us Stateless, Landless, voiceless and powerless. This (Indonesian) response reverberates across the border and continues to affect our existence and attempts to bring us to our knees, in Papua New Guinea.
We are refugees in every meaning of the word.
2. United Nations High Commission for Refugees:
(i) While the UNHCR's charter deals with the plight of refugees all over the world, our experience has been, in general, a bias against West Papuans further complicated by regional and local political interventions.
(ii) With regard to the Papua New Guinea office for UNHCR, the Moresby-based head/director, Ms. Wallaya Pura, has demonstrated sufficient animosity, contempt and insensitivity to our representations and physical presence, such that we feel greatly disadvantaged in any future consultations with the UNHCR, through her and her office.
(iii) We call for an investigation by UNHCR authorities into her conduct regarding our concerns. We further call on authorities from the UNHCR regional office in Canberra – Australia, to take over all consultations regarding our status, while our concerns about bias and inappropriate conduct by the head of the PNG office, are investigated.
(iv) We bear witness to the UNHCR's refusal to recognize us as refugees, and in the case of the UNHCR PNG office, to their active and passive role in our displacement over the past 9 months from four (4) different locations in Port Moresby.
In this time we have experienced the following:
(a) Forceful removal from the UNHCR office in Port Moresby by security under her orders and our elders branded by her as "criminals", in the same incident.
(b) Accusations of falsifying claims about security concerns for our families in order to gain refugee status.
(c) We have not received any formal response to all correspondence and supporting documents which we have lodged with her office for consideration.
(d) Since our relocation out of the Boroko Police station in Port Moresby, and after promises to inspect and asses our conditions at the new location, no such visit has eventuated from the UNHCR, or any other relevant authorities. Tonight will be our third night since we have been removed by way of a court order from that location to a nearby sports and recreational area in Boroko. We fear an impending removal from this location and are resigned to the continued absence of UNHCR intervention.
3. Papua New Guinea Government:
(i) We believe that our eviction from 8-mile in Port Moresby was politically motivated by interventions from the Indonesian Embassy to the PNG Government. It is no secret that we have been and continue to be vocal against Indonesian repression and genocide in our homeland and that we have been a source of friction between the two states.
(ii) We have written to all the relevant PNG Government authorities with regard to our eviction, including the Prime Minister of Papua New Guinea, Minister for Foreign Affairs and the Chief Secretary of the Prime Ministers Department, but to date have not received any formal response.
(iii) We seek resettlement in a third country and therefore ask the PNG Government to release us from its jurisdiction and actively participate in our resettlement in a third country.
(iv) We urge the PNG Government to take heed of the 2007 decision by the Vanuatu Malvatumauri National Council of Chiefs to "Adopt" our families, and formalize this Melanesian expression of compassion, by way of mutual agreement with the Independent State of Vanuatu.
4. The People of Papua New Guinea: Brothers and sisters
(i) We the West Papua people residing at Apex Park – Boroko – thank you for all the kind expressions of support and sympathy we have received during this period, since our eviction from 8-mile.
(ii) We pay tribute to all those PNG hero's past and present, who have contribute in all ways big and small to assist all West Papuans inside and out, to realize the Melanesian dream for a free and independent homeland for our people.
(iii) We urge you to continue and escalate your efforts and to reach out to brothers and sisters elsewhere in Melanesia, to reverse the rapidly deteriorating situation in West Papua. As evidenced by our situation in Port Moresby, we are stateless, landless, without political freedoms and face institutionalized intimidation and persecution. Your constitutional freedoms and rights to act on our behalf, remains our only saving grace.
(iv) Brothers and sisters, we are facing the toughest challenge since arriving on PNG soils and though everything – literally everything – is against us, we are together, we are strong, we are determined in our resolve, we are one people, we are one soul.
For more information, please contact Richard Brunton or Freddy Warome on +(675) 6218060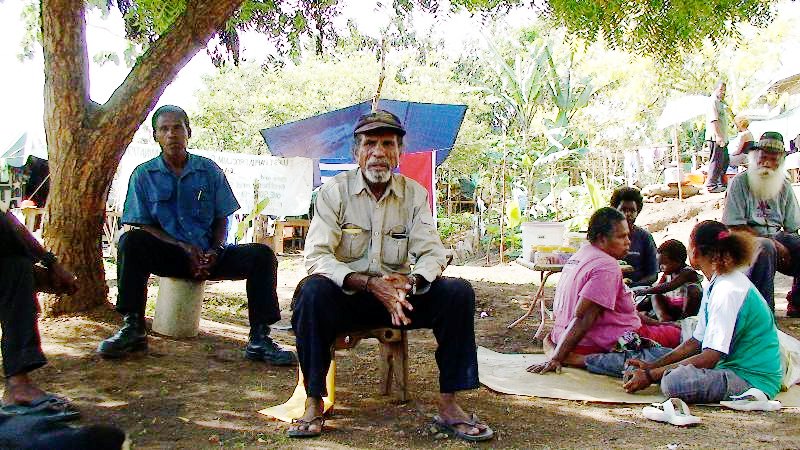 <! End main text>